issn online : 2598-1226| issn cetak : 2598-1218   Akreditasi : Sinta 4
Published by Institute of Research and Community service Universitas Muhammadiyah Tapanuli Selatan. This journal contains the results of publication lecturers to the community of agrokompleks, Teacher Training and Science of teknosains, and sosbudkum and published twice a year ie in April and October. Focus & Scope :
Human Development and Nation competitiveness

Poverty Alleviation based on local competitiveness

Management of rural and coastal areas with local wisdom

Economic Development, Entrepreneurship and Cooperatives

Creative industries and UMKM

Development of Environmental Technology

Health, Nutrition, Tropical Diseases, and Herbal Medicines

Art, Literature and Culture, and National Integration, Social Harmony and Education
Online Submissions
Already have a Username/Password for Martabe : Jurnal Pengabdian Kepada Masyarakat?
Go to Login. Need a Username/Password? Go to Registration
Registration and login are required to submit items online and to check the status of current submissions.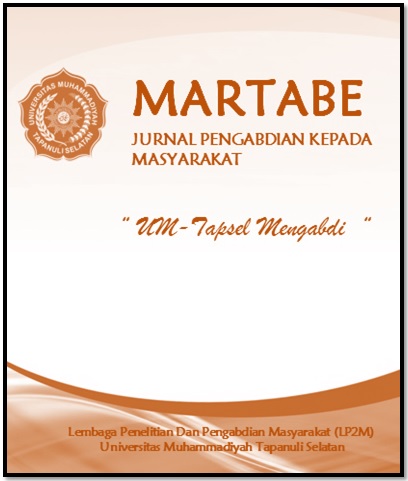 Vol 2, No 2 (2019): Martabe : Jurnal Pengabdian Kepada Masyarakat
Table of Contents
Lili Andriani, Susi Widiawati, Yuliawati Yuliawati

10.31604/jpm.v2i2.67-70

Abstract views : 134

67-70
Muhammad Aris Risnandar, Aceng Sambas, Shofiatul Ula

10.31604/jpm.v2i2.78-84

Abstract views : 116

78-84
Muhammad Baihaqi, Syardiansah Syardiansah, Zulkarnen Mora

10.31604/jpm.v2i2.85-93

Abstract views : 104

85-93
Muhammad Hasyim Ibnu Abbas, Hadi Sumarsono, Yogi Dwi Satrio, Magistyo Purboyo Priambodo

10.31604/jpm.v2i2.94-100

Abstract views : 150

94-100
Nurhadini Nurhadini, Verry Andre Fabiani, Ristika Oktavia Asriza, Fajar Indah Puspita Sari

10.31604/jpm.v2i2.101-105

Abstract views : 110

101-105
Sam'ani Sam'ani, Sutami Sutami, Muhammad Haris Qamaruzzaman

10.31604/jpm.v2i2.106-110

Abstract views : 106

106-110